UGH. Some days life feels crazier than others. Our home life is very busy right now as we have  a lot going the next few weeks.
I decided that today would be a good day to do another Present not Perfect activity. So here is the one I picked today.
Look at the paint colors below and choose the one that defines your mood today. (this is not the pic from the book, but same concept)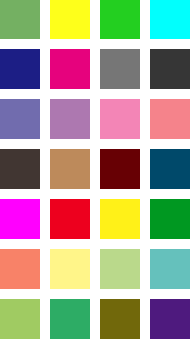 Pick your color and notice how you feel when you look at it. Accept whatever mood you are in, but give it a name.
Today was a variety of color day. I woke up and it was an ok kind of day. I'd say it was a green kind of day. Sort of mellow and ok to move forward.
When I got to work and started my day it was either rose pink or lavender kind of day. Things were either really good or kind of deceitfully crazy. The children are enjoying learning about penguins, but their behavior was a bit off the wall too.
After work, it was more of a red mood kind of thing. Almost every teacher was in my room because our boss sent home paperwork talking about next year, but made changes and didn't tell any of the teacher… oh and we had a staff meeting yesterday. Everyone was fuming!
Headed to the grocery store and now I'm home… life is sort of aqua, almost back to mellow, but not quite there yet.
So what color was/is your day? Does one moment of your day affect the rest of your day? Do you have the same moods at work and at home? I hope that my day ends up sunshine yellow, but I'll be ok to go back to mellow green.